#BadAssUndies: Australian mother poses on Facebook to silence body shamers
Posted by Cassia Wellness Clinic on 20 November 2018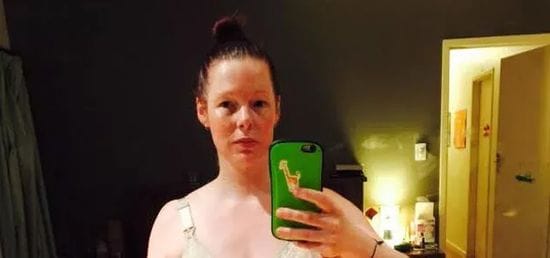 "What we should be worrying about is if people are ok, not what they look like."
When Mel Rymill, an Australian new mother, attended her first gym session, her personal trainer assumed "Obviously you want to get back to your pre-baby weight".
"That it was a statement, and not a question", offended Ms Rymill, who responded by declaring her desire to regain core strength and endurance after her pregnancy. At home that evening Ms Rymill posted an image on Facebook of herself in her "nana undies and bedtime nursing bra."
Her recent post in November 2015 went viral across news feeds sparking a digital debate around the unrealistic expectations that are placed on women following pregnancy. Ms Rymill commented on the pressures and double standards that exist "Post pregnant women are told they look good if they return to their pre-baby body quickly leading to the assumption that they look bad if the keep the extra weight. Skinny people are envied for their lack of fat or shamed for apparently starving themselves. Voluptuous women are either labelled fat and shamed or they're labelled brave for being comfortable in their own skin. There is always pressure."
Alongside the photo of her standing in her underwear, she wrote: "I may not be magazine ready, my hair is greasy, I have no makeup on, my body is squishy and plentiful, I'm not even sure I'm totally ok. But I am strong. My body is healthy Screw what society wants from me. This is what's on offer."
Other women have since joined her crusade against "body shaming" posting selfies and sharing her post over 8,500 times.
This incident illustrates the societal pressures faced by a new mother at a time when her natural instincts are focused around developing her relationship with her infant and recovering physically from the birth.
The media celebrates celebrities who "bounce back" to their pre-pregnant body shape and image-perfect portraits of new mothers trend on social platforms. What is not as celebrated, in the media, is a woman's natural adaption to conception, birth and nourishing her baby.
More recently there has been a response across digital media with a desire to promote the natural beauty of a woman in the postpartum period (see list below). One such site is the 4thtrimester project "dedicated to embracing the beauty inherent in the changes brought to our bodies by motherhood, childbirth and breastfeeding." The portraits and comments powerfully portray each woman's unique experience and the range of issues affecting them.
If we only scrutinise an individual's appearance, their inner world and emotional state are overlooked. As Ms Rymill expresses "What we should be worrying about is if people are ok, not what they look like."
A new mother is coping internally with hormonal changes, fatigue, the physical and emotional impact of birth and her transition into motherhood whilst continuously adapting to meet the needs of her newborn. Alongside this can be external issues or factors such as relationships, work or finance.
Ms Rymill's post highlights the emotional effects of feeling judged by others at this time. "Constantly labelling people and piling expectations associated with these labels on them is harmful to everyoneincluding those doing the labelling."
In my experience, as a psychotherapist, this issue is complex and multi-faceted for each individual woman. Unfortunately it can be an aspect of a woman's regular experience to feel judged on her appearance within our wider culture and society. To a new mother, with symptoms of anxiety or depression, these external judgements may feel unbearable exacerbating her self-doubt or self-criticism. This could raise conflicting feelings of anger, guilt, shame or sadness around the physical changes occurring during pregnancy and her transition into motherhood that may feel too much to cope with at this time.
In Australia one in 10 women experience antenatal depression and one in seven new mothers experience postnatal depression (Deloitte, 2012). A recent Australian study indicated one in three first-time mothers experience depressive symptoms, on at least one occasion, between pregnancy and four years after birth (Woolhouse et al, 2014). Added to this are the many mothers known to experience anxiety symptoms during this period. These figures highlight the importance to continue to raise our awareness on focusing our attention on how a mother is coping on the inside.
Related postpartum websites
References
Deloitte Access Economics. (2012) The cost of perinatal depression in Australia. Report. Post and Antenatal Depression Association
Woolhouse H, Gartland D, Mensah F, Brown SJ. Maternal depression from early pregnancyto 4 years postpartum in a progressive pregnancy cohort study: implications for primary health care. BJOG 2014; DOI: 10.1111/1471-0528.12837
Author: Cassia Wellness Clinic